White Day! (with bonus recipe!)
Valentine's Day is extremely prominent in anime and valentines day episodes pretty much follow a set progression.
Attempt to make chocolate. Said attempt may be inedible.
Agonize about the giving of chocolate.  This may be because said attempt was inedible.
Through a series of contrivances, somehow manage to give chocolate to object of affections.
Hopefully win the heart of senpai.
It's a pretty common pattern and we're all familiar with it. However, are you just as familiar with the counterpart of Valentine's Day – White Day?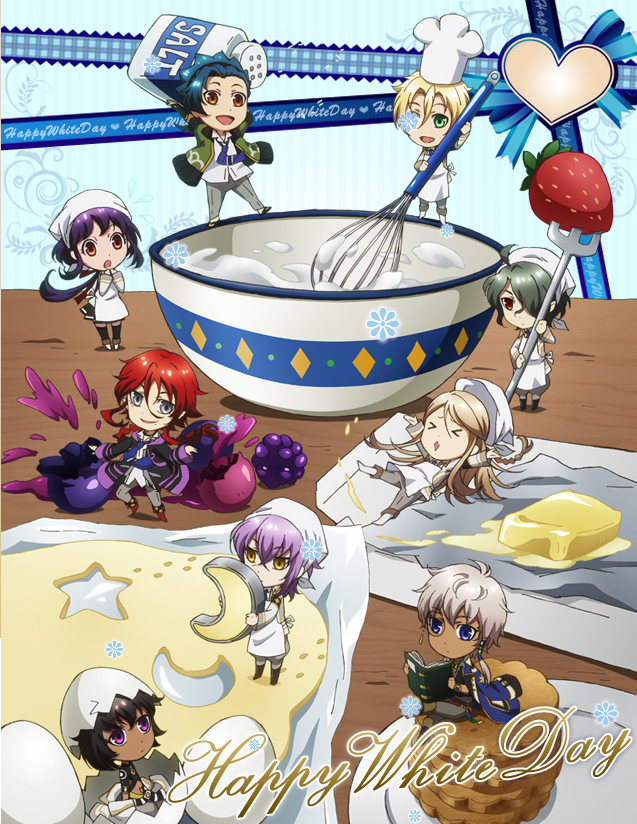 White Day is on March 14. It's a time for people to return the favor if they've received chocolates on Valentine's Day. This is usually done with candy though other gifts can be given! Is it a blatant corporate holiday? Why yes it is!
If you've happened to receive chocolates for Valentines Day, why not repay the favor? Click the read more for an easy recipe you can make yourself (and for Valentine's Day while we're at it).

Recipe: Nama Chocolate Cups
(adapted from Just One Cookbook's Recipe)
Ingredients
 400 g of dark chocolate (I use 70%)
200ml of thick cream
Decorations (the ones in the picture can be brought in Woolworths)
Mini patty cups
Utensils
Bowl
Saucepan
Measuring cup
Mixing implement (NOTE: You can use anything but WOOD to mix)
Steps
 Make sure that all your utensils are clean and dry and free of water. The smallest drop of water will make your chocolate seize up, become grainy and unappetizing.
Break the chocolate up into small pieces. Chop it up in order to ensure it all melts quickly and evenly. Place the chocolate in a bowl.
Pour 200ml of cream into the saucepan. Turn the heat onto medium. Heat the cream to near boiling – when bubbles start forming or when it measures at 75-85C.
 Pour the cream over the chocolate. Quickly mix to ensure that the cream and chocolate are completely combined. (the reason why I don't put the chocolate in the saucepan is because cocoa butter separates from your chocolate, if the chocolate is heated too high… and there is no way to save your chocolate if that happens.)
Pour the chocolate into the mini patty cups.
Place the mini patty cups into the freezer for 5-10 minutes. This is just to ensure that it is solid enough so your decorations won't sink into it.
Take out the mini patty cups and START DECORATING! Make it as pretty as you are. You can also just keep the decorations simple by dusting it with cocoa.
Put the chocolate back in the fridge when you're done. This chocolate can last in the fridge for three days. It's best eaten cold.
Give it to Senpai or kouhai or whoever gave you chocolate for Valentines. Unless they don't like chocolate in which case YOU SCREWED.